Roopali Desai Honored as One of 12 USA Today 2022 Women of the Year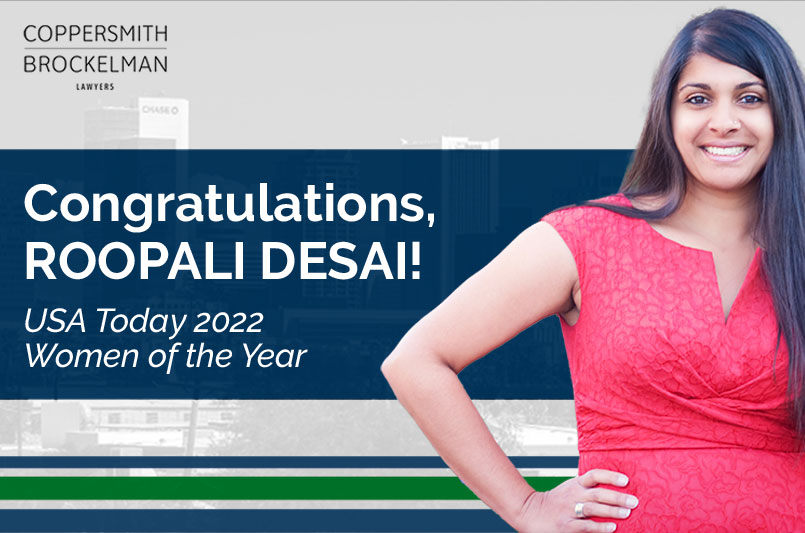 Honoring strong and resilient champions of change for its 2022 Women of the Year, USA Today selected Coppersmith Brockelman attorney Roopali Desai as one of 12 national honorees. Part of a cohort that includes Kamala Harris, Melinda French Gates and Simone Biles, Roopali was chosen for her work  defending democracy and fighting on behalf of teachers, students, and vulnerable populations.
The publication touted Roopali's work in launching Arizona's recreational marijuana program, defeating multiple lawsuits making false claims about the 2020 presidential election, and prevailing at the Arizona Supreme Court to void an unconstitutional ban on mask mandates that was illegally rolled into budget legislation. Additionally, it highlighted her work in giving marginalized populations a voice, which ties into her mantra of doing something because it is the right thing to do.
"Roopali is well known for her creative, strategic and determined approach to representing clients, but her impact on Arizona reaches far beyond the political and election law practice she built, her pro bono work and her community involvement," said Jill Chasson, chair of Coppersmith Brockelman's governance committee. "Roopali is a cornerstone of our firm and we are gratified to see her recognized for her many contributions to improving Arizonans' lives."
The USA Today honor is the latest in a string of local and national accolades Roopali has received in the last year alone. In Business selected her as a 2021 Woman of Achievement, while Arizona Capitol Times named her Best Capitol/Political Lawyer in its 2021 Best of the Capitol Awards and Business Insider recognized her as one of 11 power players shaping Arizona's recreational cannabis market.
Read the full USA Today profile.