Coppersmith Brockelman Welcomes Five Top Attorneys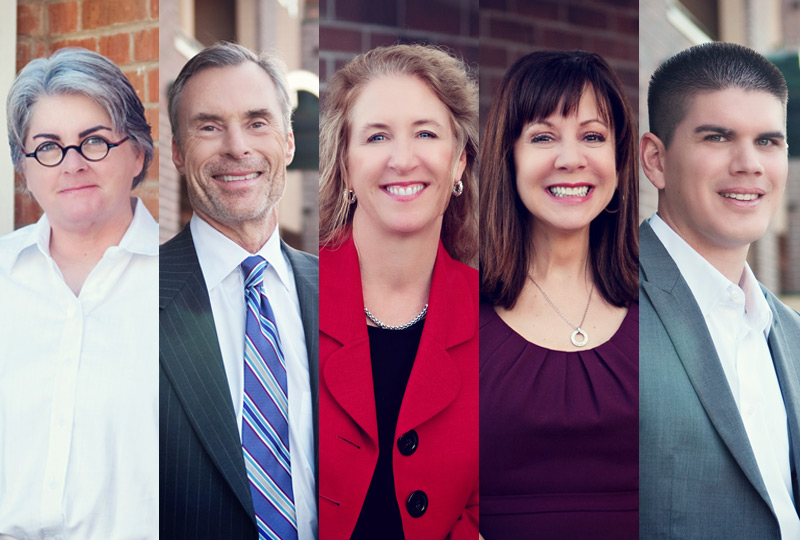 July 7, 2015 – Coppersmith Brockelman added five attorneys to its ranks in the last year, providing depth and expertise in the practice areas of complex litigation, employment, insurance and health care law.
Kathy Steadman is one of the state's leading practitioners in the areas of employee benefits, pension, insurance and other regulatory matters. She has 25 years of experience representing clients in their dealings with Arizona regulatory agencies and in connection with state and federal compliance matters. She also provides representation to municipalities and other public entities in connection with public pension issues and disputes, and serves as an expert witness in insurance regulatory and employee benefit matters.
John DeWulf brings more than 30 years of experience in complex commercial litigation. He has been recognized for many years by Best Lawyers in America in the categories of Bet-the-Company Litigation and Securities Litigation. He is also recognized by Chambers USA, Super Lawyers (Southwest) and other publications in multiple categories. John has tried cases in state and federal courts in the areas of contracts, business torts, trade secrets, real estate, securities, intellectual property, and partnership.
Kristen Rosati focuses on health care law with deep experience in HIPAA compliance and data breaches, electronic health record roll-outs, health information exchange, data sharing for research and clinical integration initiatives, clinical research compliance, clinical trials contracting, biobanking, and big data. Her professional accolades include service as president of the American Health Lawyers Association, recognition by Best Lawyers as Arizona Health Care "Lawyer of the Year" (2014) and being named one of the 50 Most Influential Women in Arizona Business (2013) by Arizona Business Magazine.
Lisa Acevedo provides strategic counsel in the areas of federal health privacy and security laws as well as state laws governing the confidentiality of health information, medical records, mental health records, and other highly sensitive information. She also advises on other data privacy and security related issues, including compliance with COPPA, GINA and with FTC requirements. Lisa's work has been recognized by Super Lawyers (Illinois), Chicago Magazine and other publications.
Andy Gaona is a five-year lawyer who comes from a national law firm. He provides depth to our political and election law practice. He also has experience in complex commercial litigation, appeals, white-collar criminal prosecutions and civil forfeiture claims. He was recognized in 2014 by Southwest Super Lawyers as a Rising Star in business litigation.