PHOENIX Magazine Recognizes 3 Coppersmith Brockelman Attorneys as Top Lawyers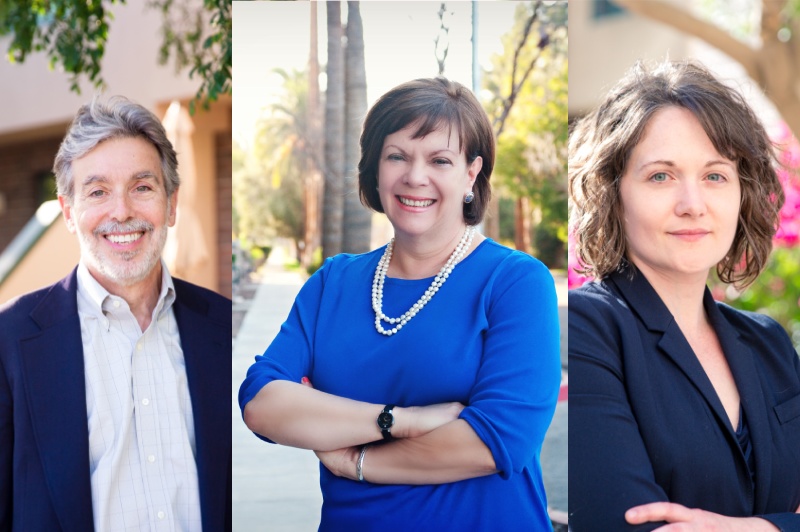 Polling State Bar of Arizona members for their recommendations on the Valley's most outstanding attorneys, PHOENIX Magazine selected Sam Coppersmith, Karen Owens, and Mel Soliz for its 2023 Top Lawyers list.
Well known for his work in business and transactional issues, Sam helps clients navigate a variety of business organizations, governance, and compliance related matters. He has nearly four decades of experience assisting both local and national businesses and nonprofits, as well as individuals and small businesses. Sam also offers clients the extensive political and governmental experience he gained as a member of the U.S. House of Representatives — where he served on the Transportation and Science committees, the Chair of the Arizona Democratic Party, and as a member of numerous state and local boards and commissions. Sam has been recognized by Best Lawyers in America® as a leading Corporate Law attorney since 2018.
Karen represents health care systems in matters of quality management, credentialing and peer review, structures, bylaws, and confidentiality, as well as government reporting. She also regularly assists health care providers with state licensure and Medicare certification, survey compliance, and many other clinical and regulatory issues. In addition, Karen advises antitrust, contracting, negligent credentialing, and other disputes related to hospital/medical staff relationships. Karen has been recognized by Best Lawyers® in Health Care Law since 2000, Antitrust Law since 2004, and Administrative Law since 2023, and was named its "Health Care Lawyer of the Year" in 2012. She has also been honored by Super Lawyers in Health Care since 2010 and Chambers USA in Health Care since 2015.
Mel Soliz, a sought-after speaker on interoperability, big data, and regulatory health law, focuses on compliance with data privacy and access, health information exchange, behavioral health/substance use disorder law issues, data breaches, and OCR investigations, as well as clinical research compliance and contracting. She is the President of the Arizona Society of Healthcare Attorneys and is recognized by Chambers, Best Lawyers© and Southwest Super Lawyers: Rising Stars©.
PHOENIX Magazine's Top Lawyers honor spotlights attorneys who have made an outstanding impact on Arizona. Attorneys are nominated and voted on by members of the State Bar of Arizona.