PHOENIX Magazine Recognizes 6 Coppersmith Brockelman Attorneys as Top Lawyers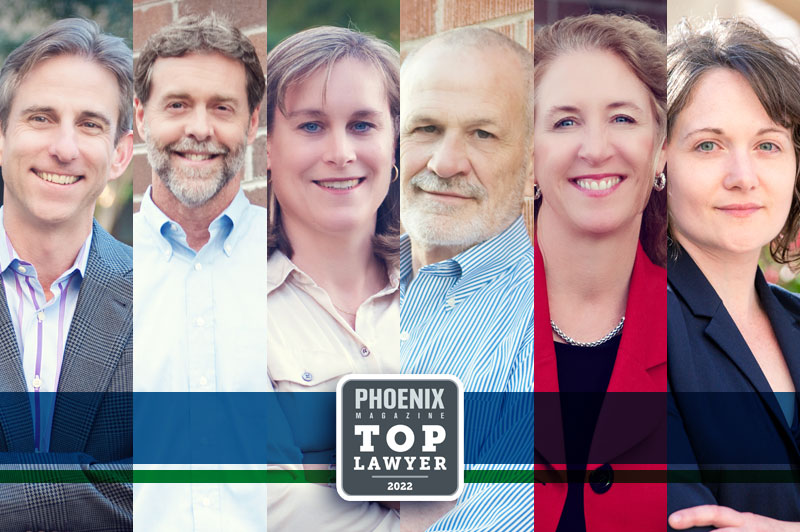 Polling State Bar of Arizona members for their recommendations on the Valley's most outstanding attorneys, PHOENIX Magazine selected Keith Beauchamp, Kent Brockelman, Jill Chasson, Andy Gordon, Kristen Rosati, and Melissa Soliz for its inaugural Top Lawyers list.
Keith handles complex commercial litigation matters in Arizona and around the country. He has extensive experience defending legal malpractice claims and class actions and represents plaintiffs and defendants in all manner of business disputes. He has been recognized by Best Lawyers in America© since 2008 in the areas of Commercial Litigation, Legal Malpractice, and Securities Litigation.  He has been included in Southwest Super Lawyers in the categories of Business Litigation and Securities Litigation for more than 15 years and was recognized as one of "Arizona's Top 50 Lawyers" in 2011 and again in 2022.  Since 2018, Chambers has also recognized his work in the Commercial Litigation field.
Well known for his work in employment law, Kent helps clients navigate a wide variety of employment-related matters and serves as principal outside employment counsel for various employers headquartered in Arizona. He has been recognized by Chambers USA since 2004, Southwest Super Lawyers since 2006, and The Best Lawyers in America© since 2006. Best Lawyers also named him Phoenix "Lawyer of the Year" for Litigation – Labor and Employment Law in 2012 and 2017 and for Employment Law — Management in 2016.
Specializing in employment law, Jill works with businesses of all sizes to resolve difficult workplace issues and maintain legal compliance on both the state and federal levels. She received prestigious Chambers USA recognition in 2022 and has consistently achieved recognition from The Best Lawyers in America© for 10 years and Southwest Super Lawyers since 2016.  Jill was also named one of Az Business Magazine's Most Influential Women in Business in 2018.
Legal veteran Andy has decades of experience in business, antitrust, health care, and election law. In addition to representing a variety of elected officials and campaigns, including former Arizona Governor Janet Napolitano, he assisted the U.S. Department of Homeland Security in resolving national security legal issues as Counsel to the General Counsel. Consistently honored by The Best Lawyers in America© in various practice areas since 2006, Andy earned Phoenix "Lawyer of the Year" for Antitrust Law three times (including 2023), twice for Litigation – Healthcare Law and once for Litigation – Antitrust.
One of the nation's leading Big Data and HIPAA compliance attorneys, Kristen has extensive experience in data sharing and privacy in complex health care arrangements. A Past President and Fellow of the American Health Law Association, she was honored as The Best Lawyers in America© Phoenix Health Care Lawyer of the Year in 2021, 2017 and 2014. Chambers USA has honored her in Health Care for Arizona since 2015 and nationally in Privacy and Data Security: Health Care since 2020 and she is a six-time AzBusiness Top 100 Lawyers in Arizona recipient.
Melissa is a Rising Star — recognized by Southwest Super Lawyers in 2022 and Phoenix Business Journal in 2021. Specializing in data privacy and access laws in the health care and technology industries, she is a nationally sought-after speaker and advisor on complex issues involving information blocking, CMS interoperability mandates, and the Trusted Exchange Framework and Common Agreement (TEFCA). She is President of the Arizona Society of Healthcare Attorneys and also recognized by The Best Lawyers in America© in Health Care Law.
PHOENIX Magazine's Top Lawyers honor spotlights attorneys who have made an outstanding impact on Arizona. Attorneys are nominated and voted on by members of the State Bar of Arizona.